Farm and City
Agri suppliers
---
Background
Farm and City is your local store for animal feeds and related animal welfare products. We opened our doors to the public in January 2019 and since then it has grown from strength to strength. Our distribution channel is local and expands across borders mainly Zimbabwe, Malawi, Mozambique, and Zambia.
We use our extensive experience in livestock/poultry farming and cattle ranching to give you the best advice on how to get the best productivity from your huge investment.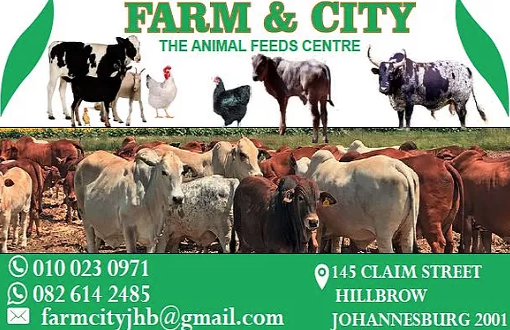 ---
Mission Statement

Our mission is to support farmers in Southern Africa to maintain the health and well-being of their livestock and poultry by supplying affordable and easily accessible animal feeds, vaccines, antibiotics, and maize seeds. The overall objective is to increase the productivity and profitability of the farm.
---
Vision

We see ourselves growing to be established in all the provinces of South Africa and in all the major cities of Southern Africa giving local support and expertise to farmers who want to establish themselves in livestock and poultry farming.
Sign in to add your comment.
Suggested Pages
Address
145 Claim Street Hillbrow Johannesburg 2001
Gauteng
Contact details
010 023 0971
082 614 2485
Products
Farm & City stock, Hi-tet, Block salt, Terramycin
Hours of operation
Weekdays : 8am-5pm
Saturday: 9am-5pm
Sunday: 9am-4pm
Holidays: 8am-3pm